First snow day here in Kingston 2021
4th July 2021
Photos sent in by Janice and Simon Molloy!
10th January 2016
A big thank you Janice and Simon Molloy for sending us these two wonderful photos.
In the first photo Simon Molloy is riding on the Around The Mountain Cycle Trail.
In the second photo Simon is on the Welcome Rock Trail in Garston.
We really appreciate you sending through these photos over email!
We love to hear that our guests had a wonderful time in the park, while also
exploring the Queenstown Lakes / Southland Region.
We hope to see you both again to stay in the future.
KHP Sponsors the Kingston Golf Club
4th December 2015
The Kingston Holiday Park are proud sponsors of the Kingston Golf Club.
You will spot our signage on hole #4 (Bridgman) if you go down for a round!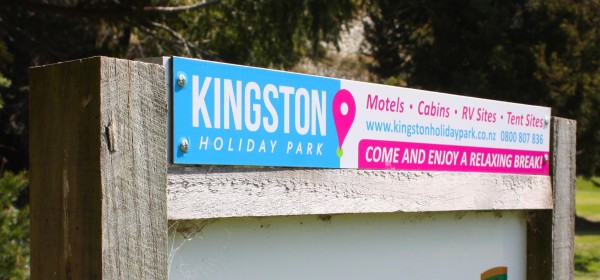 The Kingston Holiday Park's NEW Advertising:
22nd November 2015
Here at the park we have been working hard to update all of our information and give our
branding a new vibrant new look and feel. Our updated advertisements have now been printed in
the AA Traveller magazines distributed all around New Zealand!
Make sure you pick up your FREE copy from popular tourism outlets or an i-site today!
Whats on around the Queenstown Lakes District area?
1st October 2015
Arrowtown Long Lunch
An afternoon of delicious food and lively entertainment. Held on Arrowtown's Buckingham
Street, the event features a line of tables running from one end of the street to the other.
4TH DECEMBER 2015
12:00pm – 1:00pm

Wakatipu Plunket Garden Tour
This Garden Tour is a great day out visiting some of the most spectacular gardens in the
Wakatipu – local residents open their gardens for you to enjoy on a self-drive tour.
6TH DECEMBER 2015
10:00am – 4:00pm

Shotover Jet Christmas Cracker
A giant outdoor stage, a 10m super screen, loads of room for the kids to run around, food stalls
and picnic hampers, a 2 hour show, a cast of over 200 and an absolutely spectacular fireworks
display to round it all off.
12TH DECEMBER 2015
7:00pm – 10:00pm
Rhythm and Alps – Music Festival
The venue is called The Robrosa Station. It is nestled in the beautiful Cardrona Valley,
between Queenstown and Wanaka in Central Otago. Get your tickets now!
30th & 31st of December 2015
4:00pm – 12:00am (New Years Night)
Queenstown New Year's Eve Celebrations
Positioned on the Queenstown Lakefront, the year of 2016 is brought in with a great line-up
of live music, entertainment and a spectacular fireworks display lighting up the night sky at midnight.
31st December 2015
7:30pm – 1:00am