CABIN 1 & 2
Standard Double Room
Sleeps up to 2 people
• 1x Double bed
• Bedding and towels included
• Guests use the communal toilets and showers in the holiday park
• Shared holiday park kitchen and BBQ facilities
• Unlimited WiFi
• Fan heater
Cosy standard cabin with 1x Double bed, flat screen TV, tea & coffee, all bed linen, two towels,
outside table and chairs. Guest use the communal toilets, showers, kitchen, dining and BBQ area.
Full access to the holiday parks amenities and facilities.
Coin operated laundry: $4 per wash, $4 per dry ($2 & $1 NZ coins only)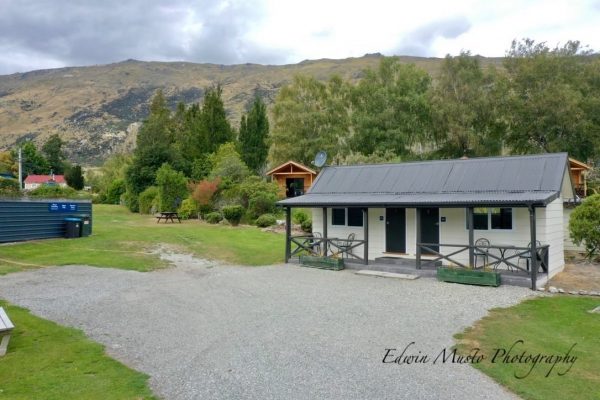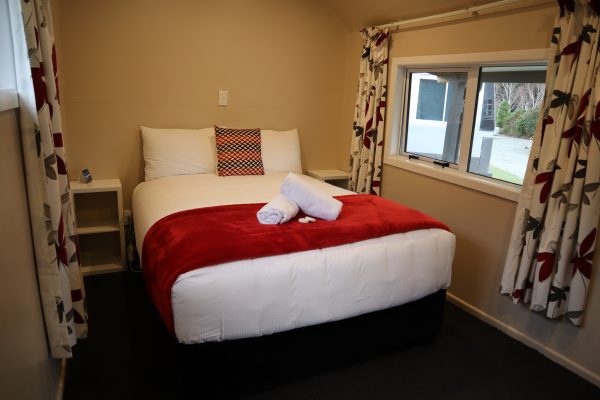 CABIN 3
Standard Double Room
Sleeps up to 2 people
• 1x Double bed
• Bedding and towels included
• Guests use the communal toilets and showers in the holiday park
• Shared holiday park kitchen and BBQ facilities
• Unlimited WiFi
• Fan heater
Cosy standard cabin with 1x Double bed, flat screen TV, tea & coffee, all bed linen, two towels,
outside table and chairs. Guest use the communal toilets, showers, kitchen, dining and BBQ area.
This cabin used to be a miners hut located on the Shotover River in Queenstown.
Full access to the holiday parks amenities and facilities.
Coin operated laundry: $4 per wash, $4 per dry ($2 & $1 NZ coins only)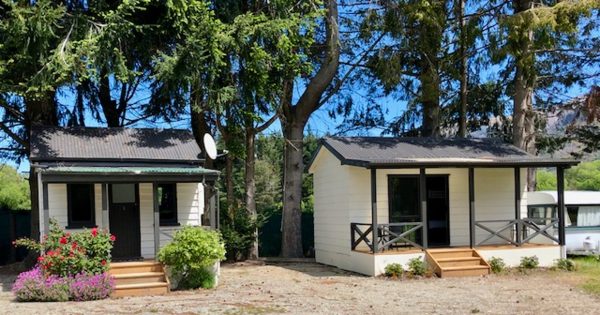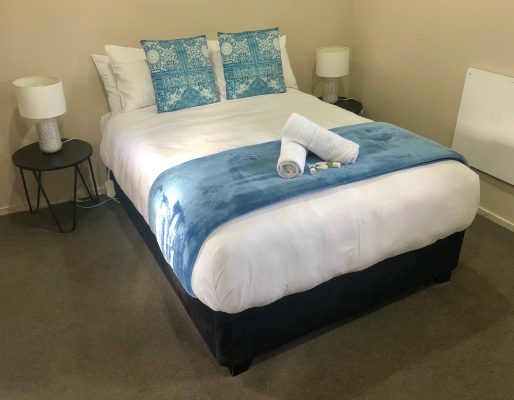 Cabin 3.                                                                                      Cabin 4
CABIN 4
Standard Quad Room
Sleeps up to 4 people
• 1x Queen bed
• 1x Bunk Bed
• Bedding and towels included
• Guests use the communal toilets and showers in the holiday park
• Shared holiday park kitchen and BBQ facilities
• Unlimited WiFi
• Fan heater
Spacious standard triple cabins with 1x Queen bed and 1x Bunk bed. These cabins have a tea & coffee making stand, all bed linen provided, two towels, shower soap, outside table and chairs. Guest use the communal toilets, showers, kitchen, dining and BBQ area.
Full access to the holiday parks amenities and facilities.
Coin operated laundry: $4 per wash, $4 per dry ($2 & $1 NZ coins only)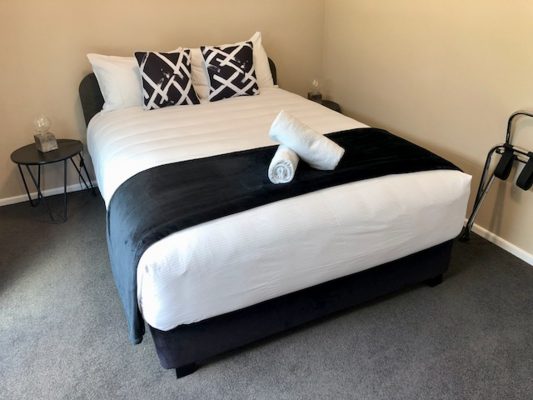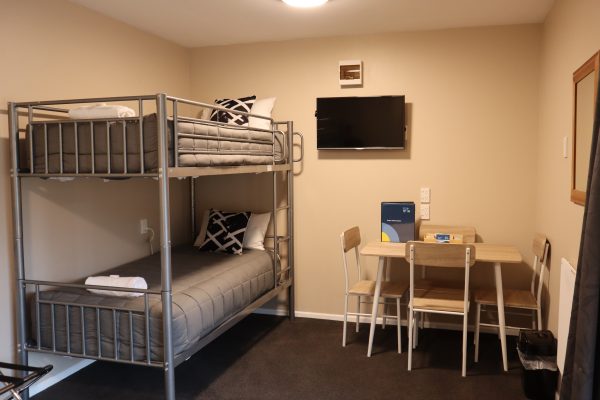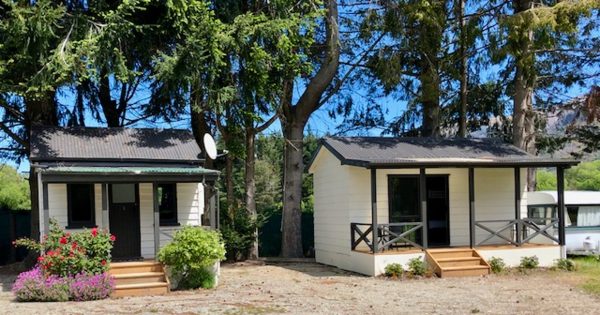 Cabin 3.                                                                                  Cabin 4
Log Cabin 4
Standard Triple Room
Sleeps up to 3 people
• 1x Double Bed
• 1x Single Bed
• Bedding and towels included
• Guests use the communal toilets and showers in the holiday park
• Shared holiday park kitchen and BBQ facilities
• Unlimited WiFi
• Fan heater
Spacious standard triple cabins with 1x Double bed and 1x Single bed. These cabins have a tea & coffee making stand, all bed linen provided, two towels, shower soap, outside table and chairs. Guest use the communal toilets, showers, kitchen, dining and BBQ area. .
Full access to the holiday parks amenities and facilities.
Coin operated laundry: $4 per wash, $4 per dry ($2 & $1 NZ coins only)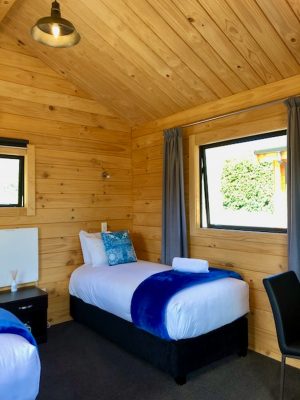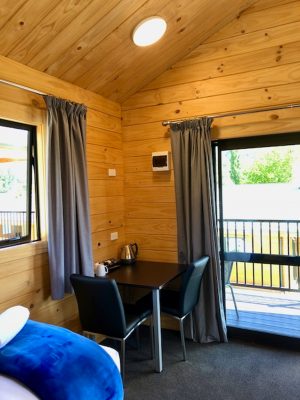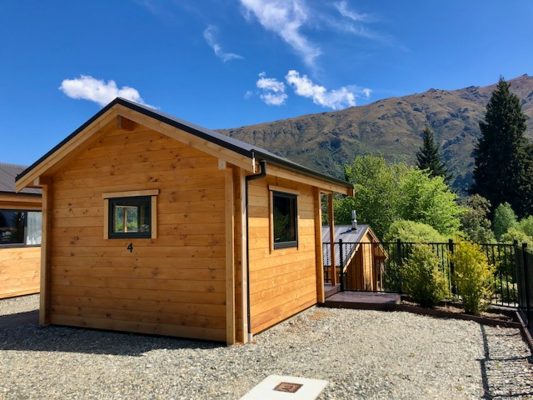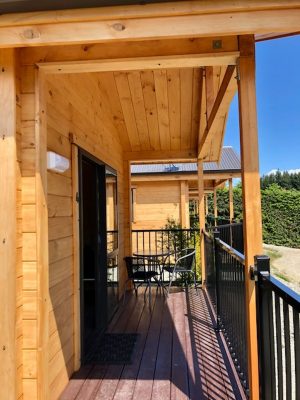 CABIN 5
Standard Queen Room
Sleeps up to 2 people
• 1x Queen bed
• Private ensuite with toilet and shower
• Private kitchenette with cookware and utensils provided
• TV with Freeview
• Heat pump and panel heater
• Unlimited WiFi
Spacious studio cabin with a Queen size bed, well equipped kitchenette with microwave, portable cook top and
fridge, dining table, flat screen TV (Freeview), small ensuite featuring your own shower, vanity and toilet.
Full access to the holiday parks amenities and facilities.
Coin operated laundry: $4 per wash, $4 per dry ($2 & $1 NZ coins only)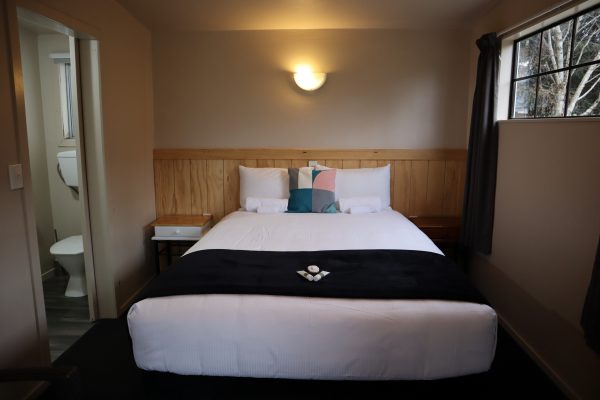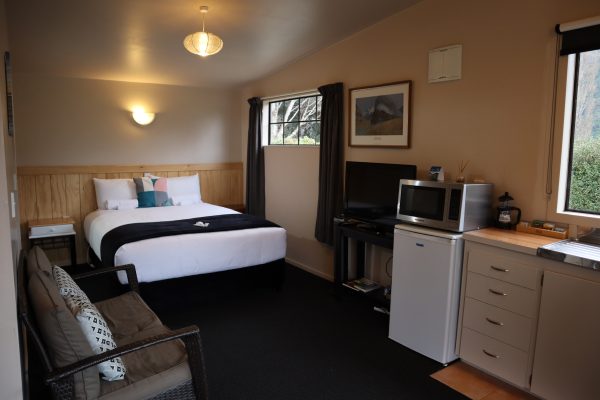 CABIN 6
Ensuite Family Room
Sleeps up to 4 people
• 1x Double bed
• 1 x Bunk Bed
• Private shower and toilet
• Private kitchenette
• Flat Screen TV with Freeview
• Wall heater and panel heater
• Unlimited WiFi
A quaint one-bedroom cabin with 1x Double bed and 1 x Bunk Bed. Small living room with flat screen TV (Freeview),
en-suite features your own shower, vanity and toilet, well equipped kitchenette with microwave, portable cook top and fridge.
Full access to the holiday parks amenities and facilities.
Coin operated laundry: $4 per wash, $4 per dry ($2 & $1 NZ coins only)

LOG CABINS 1 – 9 (except Log Cabin 4)
Ensuite Queen Room
Sleeps up to 2 people
• 1x Queen bed
• Private shower and toilet
• Private kitchenette
• Flat Screen TV with Freeview
• Balcony mountain views
• Unlimited WiFi
• Panel heater
A modern log cabin with 1x Queen bed, table and chairs, flat screen TV (Freeview), bathroom features your own shower, vanity and toilet, well equipped kitchenette, microwave and fridge. Full access to the holiday parks amenities and facilities. Coin operated laundry: $4 per wash, $4 per dry ($2 & $1 NZ coins only).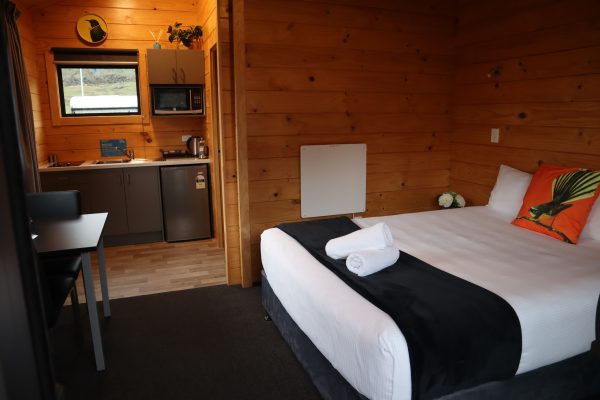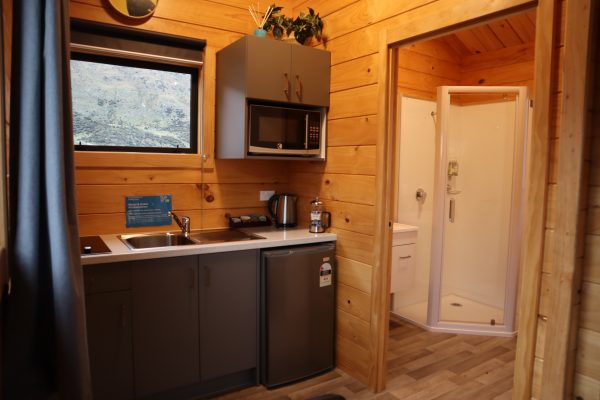 Cancellation Policy:
If you book directly with us and cancel 2 days (48 hours) or more before your arrival date, you will not be charged for your accommodation. If you fail to arrive, leave early or cancel 2 days (48 hours) or less before your arrival date, then you will be charged in full for the first night of your booking and notified in writing via an email by Kingston TOP 10.
Please call us on +64 3 248 8501 or email stay@kingstontop10.co.nz if you need to cancel your booking, thank you.

TO BOOK NOW:
Simply click the link http://www.kingstontop10.co.nz/book-now/